Modern leather furniture is an increasingly affordable, sustainable, durable, and fashionable choice for all rooms of the home especially the dining and living areas. Though leather was once a material only afforded by wealthy individuals it has become more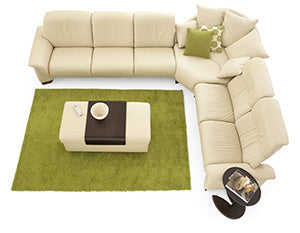 affordable and popular in recent years. As leather is a sustainable resource it is readily available and in high demand which has caused prices to drop to an affordable range in many furniture stores. Modern leather furniture is a great way to add a touch of elegance to the home while still providing the practicality needed when children or pets are involved.
Many furniture stores offer unique and varied styles of leather furniture including leather sofas, chairs, and recliners for the living room area. Leather is not only an eco-friendly and sustainable material, as it comes from cow-hide, but it is also quite durable. A leather sofa can easily be wiped down in the case of spilled food or drink, or freed of stray pet hair. Leather also stands up well to activities that may tear or stain more fragile fabrics, as is often the case with pets of children. Qualities of durability and ease of cleaning also make leather the ideal fabric for dining room chairs. Leather dining chairs can easily be wiped clean of stray food and drink particles and also provide supple comfort.
Aside from durability the benefits of modern leather furniture include appearance and comfort. A leather sofa or leather dining chair can add sleek elegance to a home's décor which is not always accomplished with fabric or wood choices. Today leather comes in many different colors so furniture is not only restricted to black and brown but is also available in many furniture stores in more vibrant and exciting hues. Another bonus to leather furniture is that it is all natural which allows for it to adjust to temperatures. A leather sofa will feel cool to the skin on a hot day; a leather dining chair will provide room temperature warmth on a cooler day. In addition, the body's natural oils will imbed in the leather and cause it to soften and become even more comfortable and supple with continued use.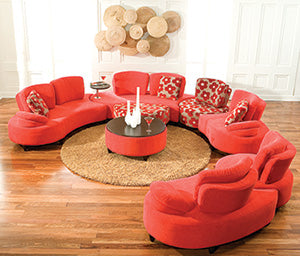 While many furniture stores offer a variety of furnishings in different fabrics and materials which may be cheaper, leather furnishings are the way to go for resilience, durability, and sustained comfort. A sleek leather sofa gives the living area an air of both comfort and class which are not easily achieved with other materials. A modern leather dining chair with its smooth surface and clean lines will add a touch of sophistication and regality that put the finishing touches on a warm yet contemporary décor. Comfort does not need to be sacrificed for a home which is full of the modern elegance associated with sleek leather furnishings.
There are a few places in Toronto that offer wide variety of furniture all at one place. Either browse them at two of our Toronto based Decorium Furniture showrooms or even better check them out on our website from the comfort of your Home.