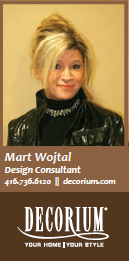 This is my favourite time of the year. The leaves change colour, the air is fresh and crisp while thoughts of changing our décor to reflect the season are filling my mind.
We change our clothing and fashion to reflect the change in weather, why shouldn't we do the same with our rooms? Gone until next spring are the bright and colourful floral fabrics.
Say so long to the clean white linens and tablecloths. It's time to invite in the scents and sights of the outdoors. Let Mother Nature be your inspiration!
Fall is also traditionally dining season. It's the time of year when we gather with family and friends around the dining table.
For a short while, we saw the trend of casual dining gaining popularity and being embraced in households. But while casual dining is still a large section of the dining room market, we are now seeing a resurgence in formal dining rooms.
People are turning back the hands of time to when there was greater emphasis on the dining experience.
Family and friends are starting to gather face to face with each other around the table to enjoy elaborate meals and good company.
I'm so happy that this trend is returning. Some of my best memories as a child were when the entire family gathered in the dining room, we sat, ate and talked for what seemed to be hours.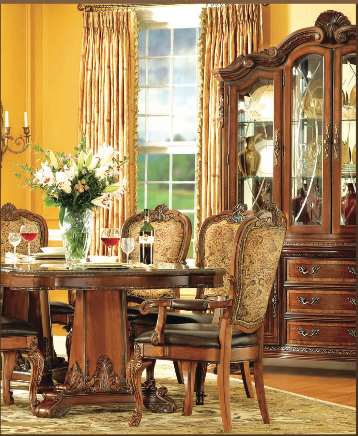 Decorium is very proud to have a large selection of dining rooms, both formal and casual.
It's time to reconnect with friends and family. If a new dining room from Decorium plays a small part in helping you accomplish that, we'll be doubly happy!
Enjoy your fall decorating because the season is fleeting. And we all know what's to come!