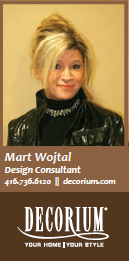 So many people come to us and say, "Our room is stale! We need a fresh look! It's time for a change!"
I guess half the battle is recognizing when it's time to change your decor, but the challenge is knowing how to start the project, especially when there are so many options available.
So many questions start to fill your head, all legitimate: Where do I start? What stays? What goes? How much will it cost? Can I do this on my own?
It's time to examine your room and ask yourself some key questions: your room has been the way it is for several years, what did you really like about the room? What did you dislike about the room? These answers will help you understand what you want to change and why you want to change it.